Sports Illustrated winner Kids of the year 2012
I normally don't pay so much attention to the nomination of the Sports Illustrated prizes of the year, as they normally go to the best playing basketball player, baseball player or other multimillionaire athlete.
For last year it seemed to be the same, as Lebron James was named the winner.
He didn't agree though, and said that the brothers Conner and Cayden Long, deserved this title more than anybody.
After seeing this video, I am sure that you'll agree.
httpv://www.youtube.com/watch?v=b_Lax4zFFoA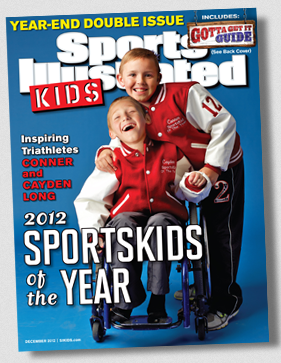 Sport Management Interview
The beauty of the internet is that if you are open to it, you can make connections with very kind people. I always look out to connect with people who have an interesting story to share, especially about sports and management.
I was pleasantly surprised when I received an email from Brandon Yeager, with the request to do an interview.
The introduction of the video takes about 50 seconds, and then the actual interview starts.
Brandon does interviews with a variety of people on
http://theinfopreneur.tv/
A shout out to Brandon, thank you for this interview!
Changes in Sports
Here is a short 3 minute video about a theoretical framework on change.
httpv://youtu.be/muCUtOtgbqM
Read the text
So hi guys, this is just a short video. It's been a while since I made a video, but now that I finished the new design of the website, I want to publish more videos in the future. I strongly believe that video is the new way of online communication.
What I would like to share with you is a management theory about change. I've learned this online from a certain gentlemen named Eben Pagan. And Eben Pagan speaks about 3 phases in change. Whether you change something personal, like quitting smoking or going on a diet….or you want to change something in your sports organization, you want to change your athletes or you want to operate more professionally. This framework stays the same, and it helps you to look at the bigger picture.
If you look at the phases of change, it looks like this: Your first phase, your second phase and the third phase. Now in this first phase you'll get enormous resistance, and it takes loads of energy to pass this phase. You can also compare this to a rocket going into the sky. It uses about 80% of its energy in the first phase. So you will experience lots of resistance, either from yourself, internally, or from the people you're in a team with.
The second phase still has quite some resistance, but it is getting less. You have to push through and people around you are getting accustomed to the change. So it is important to not give up after or in the first phase, but to make it to the 2nd phase.
And then the third phase you will either feel yourself more relieved with the new change, people are getting accustomed, everybody knows about the new policy or the new direction of your sports organization. So the resistance is getting minimal. And then from here on the resistance basically disappears.
If you want to create change or new habits or rituals within your sport organization or yourself, I would advise you to keep this framework in mind. And my last tip is: Don't try to change too much in a short period of time. Do take your time for change, as you otherwise will get too much resistance and you will simply not succeed.
Thanks for watching and see you next time !
Interview Devon Harris "Keep Pushing"
It is always interesting to see what direction former elite/ Olympic athletes take with their career, after their sporting career. Most of us remember the movie Cool Runnings (1993), which was a comedy based on the true story of the First Jamaican bobsled team trying to make it to the winter Olympics.
I had the opportunity to meet one of the bobsled members, Devon Harris, a couple of years ago. He is an author of a couple of books and is a motivational speaker.
Devon was willing to do an interview, in which we talk about different challenges anyone in sports (and in life) deal with.
If you prefer to read the interview, you can click on this cover and download the ebook of the interview.

The video interview is in two parts.
PART 1:
httpv://www.youtube.com/watch?v=dxbxYrIKGFg
PART 2:
httpv://www.youtube.com/watch?v=u9Kvoxo8sz4
You can visit the website : http://www.devonharris.com
Managing risk in sports
Whenever we work in sports, be it as a volunteer or a professional, the top priorities are the day to day work. We don't start with planning the long term policy, and analyze our insurances or possible risks our athletes and coaches, or do we? But if we just stop and think about the possible risks, I am sure that we can think of situations that need our attention!
I had the opportunity to interview Mrs. Katherine Nohr, who is author of the book "Managing Risk in Sport and Recreation: The Essential Guide for Loss Prevention" (2009).
Listen to this 24 min audio where Katherine Nohr explains the 3 elements of risk management:
Risk assessment
Risk control
Risk financing
I also ask her in the end the following questions:
 What is the most common mistake, made by sport organizations who are attending risk management?
How much time do we need to dedicate to risk management in sports?
Do we need to consider the use of doping as a risk management issue?
How do we manage aggressive behavior in sports?
Can sport organizations refuse to take responsibility for certain situations?
You can get more information on the book on AMAZON.com
Or visit the website of Mrs. Katherine Nohr http://nohrsports.com/
Multi tasking in sports
This is just a short video, where I show you a simple test to analyze whether multi tasking on the job, at home, or in sports is as productive as we think it is.
httpv://www.youtube.com/watch?v=lkE6ZsN9mf8