Readers Interview: Sanjaye (Mauritius)
In order to create an online platform to exchange information between our readers, we've started with interviews with our readers.
They all work in sports, and therefore have experience to share with all of us.
---
Name: Sanjaye Goboodun
Country: Mauritius
Function within your sport organization:
1st Vice President NOC Mauritius
President National Olympic Academy
Co Chair Sport & Environment Commission
Secretary Mauritius Badminton Association
Current employer: Chemical Engineer
Most practiced sports in Mauritius: Football

1.How did you come involved in your sport organization, and what kind of tasks/functions do you have?
Well I started my sport life as a badminton athlete. Had to stop sport career due to academic studies and joined in again as technical official and administrator. Afterwards through various stages I got elected in the National Olympic Committee (NOC).
Within the badminton association I have to look over the secretarial aspects of the board meetings and office duties. At the NOC I am mainly responsible for promotion of Olympic values throughout our sporting realm.

2. What is the biggest challenge you currently have?
Our biggest challenge here is to provide athletes the needed environment for them to prosper. It is not always easy to have all complementary requirements that the sport organization /athletes need to succeed. There will always be some missing links and we, as administrators, have to manage with what we have and make thing happens.
3. People often underestimate being a volunteer working in sports management. What do you think are the most important characteristics for a volunteer responsible for sports administration?
I firmly believe that the most important aspect for us volunteers is to self questioned our commitment taken towards our sport organization.
Voluntarism is not imposed. It is a choice and in doing so we have to be committed. It doesn't take great men or women to do great things, just those who are greatly dedicated to doing them!
4. Does your sport organization make use of facebook, social media and websites ?
Unfortunately use of social media or websites is quite limited here in Mauritius. It's not that we don't have the necessary devices or know-how but we still need to be more organized, structured and professional in introducing these tools as a means of disseminating information and communication with our stakeholders.
5. Do you have any favorite sport management resources (books, films, magazines or websites?)
Resources and community of practice developed through the Olympic Solidarity MEMOS study (Executive Sports Management) that I have followed years back have greatly influenced my way of thinking on sport management.
6. What do you think are the most important characteristics for a volunteer responsible for sports administration?
Enthusiasm, Commitment and Values – based involvement.

7. How do companies and potential sponsors see your sport? And how does this affect your approach towards them?
Sport sponsorship is not so well developed in our country due to many factors such as – no tax rebate incentives from government, negative image of some sport federations, poor sponsorship marketing by sport leaders.
To approach sport sponsors we need firstly to ensure that our product i.e. our organization and/or the event, is 'clean'. Meaning that sponsors are willing to associate themselves with us. Secondly the way we present or sell the product is important. We should know how to ask and what to ask. Last but not least, we should clearly show the potential sponsor what they will benefit in partnering with our organization.
Unfortunately, sponsorship in our country is still dependant in personal contacts and familiarity bonds that members have with business leaders.
8. What do you consider as biggest threat for your sport, and why?
Biggest threat nowadays is to get youngsters interested in 'physical sports'. More and more we see our youngsters playing video games sports rather than actually practicing sports as a competitive activity.
Also for small country like Mauritius, an athlete has little professional career prospects and as such competitive sport practice does suffer.
9. Where do you see your sport in 10 years? Will you still be part of the organization?
We are doing our best to upgrade and develop our sport. We have to move and adapt to changing environment and provide athletes with their updated needs to ensure the continuity of the sport. I really wish to be still here in 10 years time or more to see our organization on top.
10. What else would you like to share with the online readers of www.sportmanagement.cc ?
Stay in touch with this link and share our common knowledge for the promotion of our sport organizations and in the interest of our athletes.
"Even if everyone says you don't stand a chance, don't give up your dreams".

28 Rules
We all have experienced Murphy's Law in our sports organization. You have either a big sport competition, seminar or trip, and a small thing happens, and sets off a whole chain of other problems and obstacles.
I personally do not believe in superstition, but I have mentioned "Murphy Law" in the past on numerous occasions. The best way to explain this law is like "Anything that can go wrong, will go wrong".
Well, recently I listened to a presentation of Peter Diamandis, who does not believe in such a law. In fact, he wrote 28 Rules who are too good not to share.

Read everyone of them, and just remember them next time you fall into a negative spiral.
If anything can go wrong, Fix It!!… to hell with Murphy!
When given a choice… take both!!
Multiple projects lead to multiple successes.
Start at the top, then work your way up.
Do it by the book… but be the author!
When forced to compromise, ask for more.
If you can't win, change the rules.
If you can't change the rules, then ignore them.
Perfection is not optional.
When faced without a challenge, make one.
"No" simply means begin again at one level higher.
Don't walk when you can run.
When in doubt: THINK!
Patience is a virtue, but persistence to the point of success is a blessing.
The squeaky wheel gets replaced.
The faster you move, the slower time passes, the longer you live.
The best way to predict the future is to create it yourself!
The ratio of something to nothing is infinite.
You get what you incentivize.
If you think it is impossible, then it is… for you.
An expert is someone who can tell you exactly how it can't be done.
The day before something is a breakthrough, it's a crazy idea.
If it were easy it would have been done already.
Without a target you'll miss it every time.
Fail early, fail often, fail forward!
If you can't measure it, you can't improve it.
The world's most precious resource is the persistent and passionate human mind.
Bureaucracy is an obstacle to conquer with persistence, confidence and a bulldozer when necessary.
Sports Illustrated winner Kids of the year 2012
I normally don't pay so much attention to the nomination of the Sports Illustrated prizes of the year, as they normally go to the best playing basketball player, baseball player or other multimillionaire athlete.
For last year it seemed to be the same, as Lebron James was named the winner.
He didn't agree though, and said that the brothers Conner and Cayden Long, deserved this title more than anybody.
After seeing this video, I am sure that you'll agree.
httpv://www.youtube.com/watch?v=b_Lax4zFFoA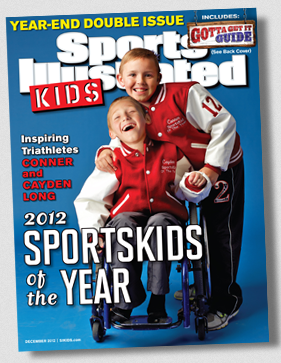 Readers Interview: Martin Gleeson (Cricket)
In order to create an online platform to exchange information between our readers, we've started with biweekly interviews with our readers.
They all work in sports, and therefore have experience to share with all of us.
---
Name:        Martin Gleeson
Country:    India
Function within your sport organization: Chief Executive Officer, Sports Education Development India Ltd.  A sports education specialist
Current profession/ job: Level 3 Cricket Coach from Australia
Company profile:Cricket India Academy established three years ago in 2009 has a strong hold today, in the field of sports education. Cricket India Academy came up with this unique concept of offering a cricket education program to budding cricketing talent in a nation which eats, drinks and breathes cricket. The program, currently being run in 16 centres across Mumbai, Pune and Jaipur with over 800 participants, is set to begin its innings in Chennai and Surat very soon.
1. How did you come involved in your sport organization, and what kind of tasks/functions do you have?
I started my professional career in retail as the Manager for Sportsco Northland before entering professional cricket administration in 1999.  I spent almost five years at Cricket Victoria, firstly as Regional Cricket Manager for the Inner East Metro region before earning promotion to Youth Programs Manager.
From Cricket Victoria, I was the East Asia – Pacific Development Officer for the International Cricket Council developing cricket structures, high performance programs and astute governance in countries such as Japan, Indonesia, Papua New Guinea, Fiji, Vanuatu, etc. before being recruited by Cricket Australia as Senior Officer – Coach Education & Training.
Within ten months, I was promoted to Coaching Services Manager managing Cricket Australia's coach education programs, activities and over 10,000 accredited members. After 12 months in this role, I stepped into the newly created role of Coaching Program Manager for Cricket Australia's International Development Program servicing Cricket Australia's agreements abroad.
Having project managed the development of the Cricket Education Program (CEP) in this role, I was recruited in February 2010 by Sports Education Development India Ltd to implement and grow the program across India. Cricket Education Program is a six level curriculum-based sequential cricket development program for 9-14 year old boys and girls.
I am a Cricket Australia accredited Level Three coach with a strong cricket, coaching and teaching background. I am also a faculty member of the Post Graduate Diploma in Sports Management at the International Institute of Sports Management at Jai Hind College in Mumbai.
2. What is the biggest challenge you currently have?
A key challenge of Cricket India Academy is of educating the market on the benefits and qualities of our coaching programs. Sports education is an emerging field so there is some work to do on educating the market of the values and benefits of providing quality based programs, an internationally developed syllabus and trained coaches.
Classroom teachers are trained, accredited and provided with a bench marked curriculum and assessment process. Typically, a sports coach has traditionally very little of these.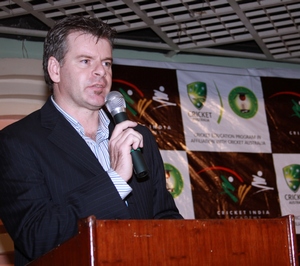 3. People often underestimate being a volunteer working in sports management. What do you think is the most important aspect in sports management for volunteers?
Volunteers provide a massive service and benefit to their field of involvement. The most important characteristic they bring to the organization is passion and their willingness to work and contribute in a selfless manner with the best interests of the participants at heart.
4. Does your sport organization make use of facebook, social media and websites ? Who handles this for you, and how do you use this to interact with your stakeholders (athletes, parents, sponsors etc).
Yes, we are very active in social media through our website (www.cricketindiaacademy.com), facebook, LinkedIn and twitter. These tools provide us with a fantastic and instant way to communicate with our participants, parents and supporters. We also have a blog for our participants to provide their feedback and to contribute content.
Our social media outlets are also a great medium to showcase our events, tournaments and achievements.
http://www.facebook.com/cricketindiaacademy
5. Do you have any favorite sport management resources (books, films, magazines or websites?)
Unfortunately, sports management text books are few and far between. I prefer to read of industry experts of their experiences and achievements in the field. Industry journals and blogs also provide contemporary and relevant advice and material.
Sport is a vast and diverse industry and an individual's specialty are of focus should guide their reading habits.
6. What is your most memorable moment in sports?
I have three memorable non-playing moments in sport for me are all significant for different reasons.
1. Coaching a local U14 girls community basketball team taught me a lot about the virtues and values of sport. The girls just wanted to have fun so my task was to create a learning environment based on fun drills and activities
2. As part of my role with the ICC, I worked with the Papua New Guinea (PNG) national cricket team in the ICC World Cup Qualifying Series in Malaysia in 2005. PNG won that tournament to earn promotion into the main qualification tournament for the 2007 ICC World Cup and to see the elation and emotion of that victory is one I was always remember.
3. The third is working as a Coach Educator for Cricket Australia at the first Pakistan Cricket Board Level 3 coaching course. To work with about 20 of Pakistan's eminent coaches (all of them with celebrated First Class playing careers) at the same time was a great experience. To learn of their playing experiences but also to understand their knowledge and passion for the game.
7. How do companies and potential sponsors see your sport? And how does this affect your approach towards them?
Cricket is India's major and most popular sport so therefore there are many sponsors involved and there is a massive amount of public interest. On the other side is that the massive size of the market means there is an enormous amount of competition. The cricket coaching market in particular is very saturated, especially in the main metro cities. For customers to understand our USP of providing a quality and curriculum based coaching experience is important for success.
8. What do you consider as biggest threat for your sport, and why?
Complacency is a potential threat for cricket in India. Being the major sport with such a vast interest and following the major danger is the sport becoming 'comfortable' and not continually evolving to provide a better customer and playing experience. The rapid growth of Twenty20 cricket in the past five years has been an example of cricket adapting to the needs and demands of the consumer.
The emergence and growth of interest in India of other sports also potentially provides long term competition.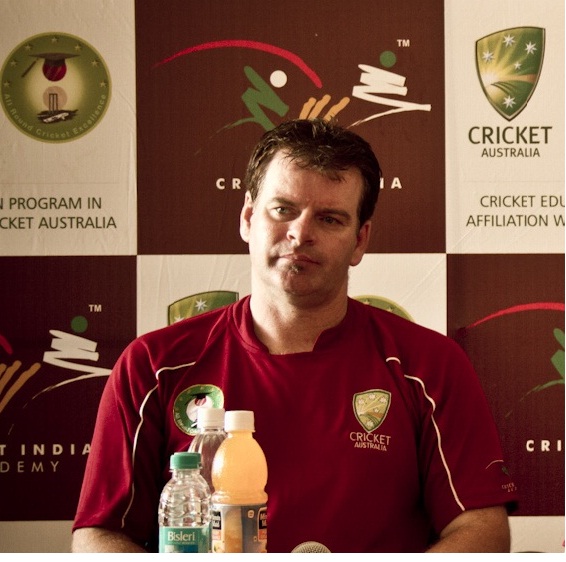 9. Where do you see your sport in 10 years? Will you still be part of the organization?
In ten years time cricket in India will be in a much more heavily competitive environment. The emerging Indian economy and the growth of the middle class is providing more opportunities for children to be exposed to other sports.
The sporting industry is moving very fast and cricket especially is still evolving. Ten years ago not many people would have foreseen the massive popularity growth of Twenty20, so who knows what will happen in the next ten years!
Olympic memories
This Mastermind Sports Management is an online international group of professionals. On a monthly basis they will share their opinion on a certain topic. You can look at the background of each mastermind by going here.
June 2012 topic: "Olympic Memories"
In a month the Olymic Games will be organized in the city of London. Our members of the Mastermind Sportmanagemetn all have their experiences with the Olympics.

Dennis Miller (Fiji)
Well I have quite a few great (and some not so great) Olympic memories..have attended 1988 (Fiji Swimming Section Manager), 1996 (Fiji Chef de Mission), 2000 (Swimming Technical Official), 2004 and 2008 (ONOC Office Coordinator in the Olympic Village).
I remember seeing Vladimir Salnikov take out the 1500m Freestyle in Seoul in 1988 with the whole stadium chanting his name…seeing Keiran Perkins from Australia winning the 1500m Freestyle in 1996 from lane 8, Michael Johnson's golden spikes winning the 200m in World Record time in 1996, riding on the athletes' bus from the Village to the stadium, eating in the Olympic Cafeteria and chatting to great athletes, keeping pace with Michael Phelps' record 8 gold medals in Beijing.
The list can be quite long!
Share

Keith Joseph (St. Vincent & the Grenadines)
It was at the Barcelona Olympics (1992) where we were guaranteed that everyone working as a volunteer had been thoroughly screened before being accepted to work with the Games.
Our delegation was in the Village, in our apartment when the cleaning crew came to do their daily chores. We quickly moved into the sitting room as they went through the bedrooms and bathrooms. As they left to go to the adjacent apartment where a French contingent was staying, one of our senior athletes went to his bedroom to check on his wallet which he had left in his pillow. To his great surprise it was not there. he screamed, 'My wallet! It is missing! I had it there in the pillow and now it's gone!'. We were all very surprised.
Quickly and without necessarily thinking it through we all started looking around. The athlete and I walked into the adjacent apartment completely oblivious to the fact that it was host to another contingent altogether. There we were searching for all that it's worth. We went there because the door was open and the same volunteers were cleaning there.
Just as one of the French athletes emerged from her room and started speaking in her native tongue which neither the athlete nor myself understood. It was however clear that she wanted to know what we were doing there.
Just when she was getting particularly irate the athlete shouted "Found it!" which he indeed had. He found his wallet in the trash can. It appeared that the volunteer cleaner who had taken it dropped it there for safe keeping as he saw us enter the apartment.
We reported the incident to the Games Village authorities who conducted their investigation only to discover that the individual volunteer did in fact have a police record and should not have been hired. He was immediately dismissed.
Share

Phil Bush (USA)
My Olympic Memory is based on the Atlanta Olympics in 1996. I was the Event Producer for Olympic Volleyball in The Omni, which has since been replaced by Phillips Arena.
Our Schedule was very intense, Our Production staff arrived at 8:30 AM, as the first Match was at 10:30 AM. That was followed by another match in the morning session. We ended the Morning wave each day at around 2:30. The Arena closed until around 5:30, when the Omni reopened for the Evening Wave, which went from 7:30 until around 10:30. This was our schedule for 16 days, and it was more intense when we got to the Playoff Rounds. Needless to say, our staff was very tired each night!
I had gone home one night and had gone to sleep around 11:30. I woke up the next morning a little early, and clicked on NBC for the Today Show, which was live in Atlanta during the Olympics. I immediately knew something was amiss, as Tom Brokaw was on and there was an arial view of Centennial Olympic Park showing considerable damage. This was, of course the Famous Olympic Bombing.
What most did not know is this was about ½ mile away as a few from the crew went from The Omni to the actual site of the bombing. Several of our staff had gone at the end of the night to wander the Park and had been fairly close to the Bombing.
I did not know at the time what would happen, but that question was answered pretty fast. The overall Olympic Volleyball Manager, Jim Stewart, called me and indicated that "We are a go for the morning wave." The Games went on!
We had a moment of silence for the 2 victims in that Horrific incident. Our security was amped up since we were so close to where the bombing was.
We went on and were recognized the FIVB – The International Volleyball Federation – as having put on the most successful Volleyball Event in Olympic Games History! And The Games Went On!
Share

Remco Tevreden (Curacao)
My first actual visit to the Olympics was in 2008. Not only did the size of this world event had a big impact on me, but the interaction with the Chinese culture also was totally new for me….and I loved every piece of it!
The memory that is engraved in my soul is that I was sitting right in front (about 20m) of the finish line in the Olympic Stadium, during the 200 meters Track & Field finals. Our athlete Churandy Martina previously didn't manage to win a medal in the 100m final, so this would be his last chance for a medal. One of our local radio stations called me to comment live, and the tension was enormous!
In less than 20 seconds the world saw Jamaican Usain Bolt destroy the records, but I only focused on Churandy, as he won the silver medal. It just seemed surreal that he truly did it. We had worked on his program during the last year, and there it was, his dream became reality.
I gave him the flag of our country, and then rushed to our coach in the dungeon of the stadium to celebrate and wait on Churandy who had to pass through the 'mixed zone' which due to numerous interviews with the international press took him about 40 minutes. During that time we heard a rumor that the USA filed a protest against Churandy, which could result in a disqualification. We just couldn't believe this !
We agreed that our coach would attend with the officials about the correct information, and that I would accompany Churandy to the dopingcontrol. When we got out, it felt like the stadium was already empty, and I went to our coach who was still waiting on an official for more information. Churandy waited outside the room in the dungeons and was congratulated by other athletes.
The Track & Field official later came in, and told us that external video material showed that Churandy stepped on the line, and they therefore disqualified him. I couldn't believe it, and threw the bottle of water I was holding on the floor and simply left.
I stuttered to Churandy that indeed he was disqualified, and saw how his eyes filled with water. He asked me how this could be, and why they waited for hours to take this decision. I couldn't answer his questions.
To make a long story short, Shawn Crawford, the American Athlete who initially finished fourth, but ultimately received the Silver medal, decided to return the medal to Churandy at a competition the following month in Switzerland.
In the following video the athletes tell their side of the story:
httpv://youtu.be/cvSIu60x_eQ
Share
"Everyone is a star at the Olympics"
In Sydney 2000 the Danish delegation had the pleasure to host a visit from the Royal Family – his Royal Highness Crown Prince Frederik. Crown Prince Frederik is a keen sportsman himself and in 2009 he was actually elected as IOC Member.
During his visit back in 2000 the Crown Prince went out to visit the Danish athletes at the triathlon venue. When standing with the two Danish coaches (Who were of course dressed in the official Danish national team uniform) a Dutch spectator came up to the little Danish party. She addressed the Crown Prince of Denmark – asking him to take a photo of her with the two Danish coaches which he did of course!
Morale must be: Everyone is a star at the Olympics!
Share

Henk Doest (Netherlands)
Although I have never been at an Olympic event personally my most remarkable Olympic memory was in 1988 (I was a 16 year youngster then) when the Surinamese butterfly swimmer Anthony Nesty won the first and only gold medal for country in a time of 53:00 seconds in Seoul.
The joy I experienced and sensed among the people and the way this achievement could bring people of all stands together showed the spirit and nation building power of sports.
It was a moment of pure pride to see your nations flag at the top amongst others and it was also a turning point in my live that still empowers me as a sports leader.
Share
Do you have any Olympic experiences to share? Leave them in the comment box below.
Last Months topic: Sponsorship examples
.